Coloring for ADHD Proven Soothing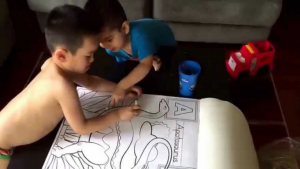 Coloring is considered to be highly beneficial in soothing ADHD symptoms among children. According to research, active participation in coloring, painting, and other types of art is a wonderful hands-on activity for children that experience the hallmark symptoms of Attention-Deficit Hyperactivity Disorder – inattentiveness, hyperactivity, and varying degrees of impulsivity. While it is true that kids with ADHD are often curious and very friendly, they are also considered to be exceptionally creative. By allowing them the opportunity to tap into their creativity, you are allowing them the unique ability to slow down, appreciate life, and enjoy that world in which they belong!
It is not at all uncommon for kids with ADHD to experience problems in learning, suffer from highly-intense emotions, and have difficulties in socialization. What we must understand is that kids have the ability to naturally communicate through the means of playing and engaging in art. This means that coloring and similar activities actually provide kids that suffer from Attention-Deficit Hyperactivity Disorder with a highly productive and nonverbal means to approach and cope with the challenges that they experience in their day-to-day lives.
Medical professionals that specialize in psychological and psychiatric conditions believe that self-expression provides ADHD kids with the unique ability to develop much-needed interpersonal skills, aids in the task of managing their behaviors, helps to reduce stress, cope with emotional-based issues, and optimize their unique level of self-awareness. Due to the fact that coloring has been found to be so exceptionally beneficial to kids with ADHD, a new form of therapy has emerged in the past few years. It is called "Art Therapy". It is based on the premise that self-expression offers numerous advantages for kids AND adults that suffer from various types of disabilities.
According to information derived from a vast array of studies on the subject, engaging in various forms of art – such as coloring – allows a child to personally explore the problems that they experience through the physical activity associated with the art form as well as the sensory integration experiences. Additionally, it has been determined that various parts of the brain are actively engaged when a child is engaging in art-related tasks. For example, using a crayon requires a unique set of motor skills. Using colors to make a picture seem realistic engages the part of the brain that is responsible for logic-related tasks and those that focus on sequential operations. The working memory and the child's attention skills are also put to work when engaging in art.
One of the biggest benefits associated with coloring for ADHD kids is the fact that when they engage in the activity, the serotonin levels in their brain are increased. This means that the child will experience better emotions – such as happiness and excitement. Furthermore, when serotonin in the brain increases, any stress that the child has is also alleviated. Coloring certain types of pictures – such as the increasing popular mandala coloring pages –have been found to be very successful in increasing the attention span of an ADHD child and decreasing their level of impulsivity. Coloring is a wonderfully exciting activity that has the potential to offer many benefits to kids with Attention-Deficit Hyperactivity Disorder. If you would like to obtain coloring pages that will help your ADHD child, click HERE.